Are we sometimes too blind for Real Love?
This week I had a task to do, I needed to put together an outdoor table setting, and while I was going through the motions of working out how to put it together I had a realisation about real love.
You see, the original table had started to deteriorate prematurely and the company replaced it with a brand new one, which I am very grateful for, but I needed to:
a) Find the time to set aside two hours to put it together, and
b) I needed someone to help me
I had planned to put it together the weekend before with my man, except he was really unwell with a nasty vomiting virus, so I decided to wait for his help, though I started to get tired of seeing the big ugly box and the towers of chairs sitting in my courtyard!
So yesterday I thought that I would put it together on my own.
I pulled the box apart and as I was reading the instructions it appeared to me that the only way I could put the legs on successfully (and the glass) was if I had another person helping me. But I wanted to work out how I could do it on my own. I was determined. Though, at that moment I had a blind spot – I couldn't work out how to do it with out another person, so I gave up and left it for another day, a day when my man was here or when a neighbour or friend was able to help.
BUT the next morning I woke up with a vision, a solution! I had worked out how to do it! And this reminded me of so many things in our life and in real love…
Sometimes we are so close, we're too close to work out the obvious, and we can believe that there's only one way of doing something and it stops us from experiencing more joy, love and happiness.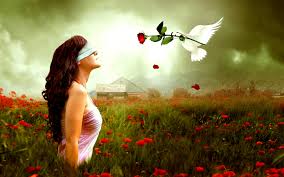 From the day we're conceived in this world we begin developing our unique neural pathways, and because of these pathways we will view life a certain way.  The way we; love another, make love, communicate, attract people, what we're attracted to, how we move, dance and so on, these are all learned (consciously or not).
How we perceive everything comes from these conditioned pathways, and they can BLOCK US (from real love)!
That is until we open our eyes, minds and hearts to possibility, to a new thought, a new way!
So, for me to discover an alternative way to put the table together I needed to take a break and step back.  Well, the truth is, I didn't consciously do that, I thought I needed to wait for someone to help me…
I had inadvertently given myself some space and time to evaluate the situation.  Because when I was sitting outside on the ground, looking at the table and the instructions my creativity was blocked.
I may have told you before that we can only process 7 +/- 2 bits of information at any time, meaning at that time I was able to process between 5 and 9 bits of information.  This would explain why at that time I wasn't able to be more lateral in my problem solving, and the reason being…
I was extremely hectic with my work at that moment. I had a new product coming out and I'd had a few other things in my personal and professional life to navigate, so when I was sitting there looking at the table lying in pieces I just couldn't see beyond the mess to find a solution (I did think of alternatives, yet none of them were workable)
For example:
It's like having a conversation with a guy about something important and we can get so hung up and what we think is right or how we think they should be that we don't hear them, we don't see a healthy solution… and this can create more conflict and disillusion.
Or if a man doesn't call when you were hoping, based on our neural pathways, we'll come to a conclusion in our minds as to why this happened and then we will behave accordingly – in a way that supports our beliefs. Even if there are other alternatives that may be more beneficial to the big picture of real love, most people will act on default.
Or maybe you're attracted to a man, you like him, but he doesn't come in the package you had imagined yourself with.  So you keep him at arms length because he's too short or too solid or too creative or too geeky… whatever your block is.  You're not allowing yourself to love and be loved based on some beliefs you developed along the way.
So, where are you blocked for real love to happen ?
Do you have a situation in your life that needs a new perspective to create the outcome you desire?
Do you jump to conclusions?
What behaviours do you default to that are unhelpful?
Do you take things personally when something has nothing to do with you?
THE POINT:
I would like to encourage you to take a breath and gently see if you can change the way you approach things in your life.
Maybe you're a single mother who wants to find real love, and at the same time cannot work out how to find the time to do this – be creative… think outside of the box.
Maybe you keep attracting the same kind of men, men that do not treat you the way you deserve – be creative… think outside of the box.
Maybe you want to change jobs or your career yet you find yourself staying where you are (and unhappy) – be creative… think outside of the box.
Don't let your "defaults" TRIP you up.
Default actions are conditioned; you don't need to think about it, default thinking just happens, that is until you make a decision to break the cycle and look for a more helpful and healthy alternative.  Real love means that at times we need a new perspective, we need fresh eyes to overcome perceived obstacles and hurdles.  
Craft new ways of thinking, living and loving. You can always create new neural pathways.  It's never too late.
Break the cycle!
Nadine x
(Below in the comments, please let me know how you can relate or a personal story you've had like this)